Statement by the DNA Doe Project
On 18 May, GEDmatch changed its Terms of Service (ToS) to make opting-out the default for its members. GEDmatch is the database used by DNA Doe Project and other genealogical groups that use genetic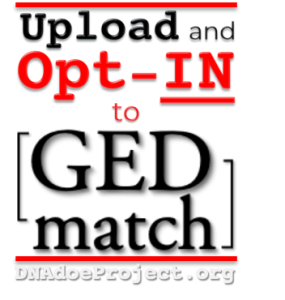 genealogy to work on forensic cases.  GEDmatch users must now consent (opt-in) before their kits are made available for comparison to law enforcement kits — including those of our Does. Our understanding is that regular genealogical use of the GEDmatch database will continue, but access to matches by law enforcement is now limited to only those users who take the extra step to opt-in.
Our cases have always been challenging, and bringing resolution to our Does may now take additional effort. However, we hope this situation is only temporary. While we wait for the number of GEDmatch opt-ins to increase, we will upload our Does' DNA files to Family Tree DNA to access its database of about a million kits.
In the meantime, we encourage EVERYONE WHO HAS UPLOADED TO GEDMATCH TO PLEASE OPT-IN after reviewing the ToS updates and to spread the word about these important changes. We expect that repopulating the GEDmatch database to a useful size will likely take a while. However, the sooner we educate users and share the news about the importance of opting in, the easier it will be for us to carry on with our mission of identifying Jane and John Does through genetic genealogy.
Our highest priority is to support and protect GEDmatch as a valuable resource for everyone to use.
For background on the GEDmatch change, please click here to read Roberta Estes' excellent blog entitled "GEDmatch Implements Required Opt-In for Law Enforcement Matching"
Also click here to read the blog by Rachel King of Toll Genealogy entitled, "GEDmatch Opt-In: A Plea"   
To follow the opt-in numbers for several of our cases, click here: Current match numbers for DDP cases
As always, we thank you for supporting the DNA Doe Project.
How to Help ID the Lost and Resolve Violent Crimes by Uploading to GEDmatch
Remember, those interested in transferring their DNA data to GEDmatch should make sure to read through the Terms of Service and ensure they are comfortable with participating.
Steps to Opting-IN at GEDmatch.com
For those who have already purchased a DNA kit and uploaded to GEDmatch.com
Log in to GEDmatch.com
Opt-IN by clicking on the police badge beside the kit number
Select "OK"
For those who are interested in exploring the benefits of Ancestry or Health DNA Services
Purchase a DNA kit from a Direct-To-Consumer (DTC) DNA company that provides ancestry or health DNA services (i.e., FTDNA, Ancestry, 23andMe, MyHeritage, etc.)
When your results are ready, download your raw DNA data file
Upload the raw DNA data file to GEDmatch.com
Make your decision to Opt-IN as described above.
Note: As always, we recommend that consumers thoroughly research options before purchasing or making decisions.
Reasons to Opt-IN at GEDmatch and Participate at FTDNA
Those generous individuals who upload to GEDmatch and opt-in help the DNA Doe Project to return names to John and Jane Does and provide much-needed answers for their families. But, there are many other reasons to upload and opt-IN.
Here Are a Few of the Benefits of Uploading, Sharing: and Opting-IN
Save Lives
By sharing your kit, there is an increased chance that a violent criminal may be apprehended.  This will help protect the lives and well-being of future victims.
Support Underserved Populations
Many of our Jane and John Does are minorities or recent immigrants from countries where DNA testing is less popular. Due to the drastic decrease in available matches at GEDmatch, the task of identifying these Jane and John Does belonging to underrepresented ethnicities has become much more difficult.
Click here to see opt-in rates for 4 cases representing different ethnic groups.
Look for Clues on Missing Family Members of Your Own
Much like the DNA Doe Project uses DNA matches to find the identities of John and Jane Does, individuals may find success researching their own families. For example, GEDmatch provides an important service to adoptees.
Access More Admixture (Ethnicity) Calculators
Still looking for that elusive Native American DNA? Curious consumers may find even more clues to ethnicity and gain greater insight to admixture possibilities through a broad spectrum of ethnicity estimates at GEDmatch, including the same admixture tools the DNA Doe Project uses for our Jane and John Does.
Explore FREE DNA Tools and Utilities
GEDmatch offers genetic genealogy analysis tools for free that aren't always offered by the DTC companies.  These include the "Are Your Parents Related" tool. Access to Tier 1 advanced tools is also available for a $10 per month subscription that helps support GEDmatch.
Find New Matches
GEDmatch includes users from all the DTC companies, including many that may not show up on DTC match lists because they fall below a predetermined cutoff.  Even low matches may open the door to solving brick walls and dead ends on family trees.
Communicate and Collaborate with More Enthusiastic DNA Cousins
An added benefit of participating at GEDmatch is that DNA cousins can reach out directly via email, and there is a good chance they are as interested in genetic genealogy if they took the time to transfer their DNA data to GEDmatch.
More GEDCOMs and Family Tree Resources at GEDmatch
Avid genealogists may obtain GEDCOMs of DNA cousins to increase odds of finding common ancestors.
Save Money and Easily Compare Kits
Through advanced tools available with its Tier 1 membership, GEDmatch enables detailed comparison and triangulation of DNA results, independent of which DTC testing company they used.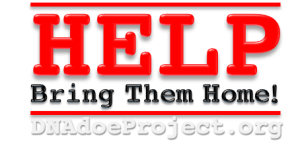 Analyze Shared Segment Data
Some DNA service providers lack a chromosome browser or limit the number of people that can be compared at one time using their chromosome browser; determining where we match with our DNA cousins is currently impossible or limited at some companies. Analyzing shared segment data also provides additional critical information on segment size and position, which may help to unravel endogamy, characteristic of highly intermarried populations.  Shared segment data can be useful for applying other genetic genealogy tools such as DNA Painter.
Learn More About Genetic Genealogy and Explore Advanced Techniques
In addition to advanced tools and admixture calculators, GEDmatch also provides several brief tutorials on how to use those tools and get more out of your DNA results.
Best of All, Uploading to GEDmatch is FREE and May Help Solve a Mystery!
Uploading and opting in to GEDmatch is simple and may provide the ONE piece of information needed for the DNA Doe Project volunteers to bring a Jane or John Doe back home, or to help other genetic genealogy groups identify violent predators. Uploading may also help adoptees reunite with their biological families.
Without help from other genetic genealogists, finding answers may be impossible, and will probably take much longer.
We hope that our thoughtful supporters will consider the many advantages of uploading and opting in to GEDmatch.
Special thanks to those supporters who have taken the initiative to upload and opt-in!
Frequently Asked Questions
How Can I be Sure I've Opted-in to Law Enforcement (LE) Matching?
On the home screen, all kits that are available to opt-in to law enforcement matching have a police badge icon ( ).
A red X through the badge

indicates the kit is opted-OUT of law enforcement matching.
If the red X
does not appear, the kit is opted-in and is available for law enforcement matching.
What is Law Enforcement matching?
Law enforcement matching is an option which allows users to make their kits available for organizations such as the DNA Doe Project, and other researchers who are working on cases where the identity of a victim, criminal, suicide or accident victim is unknown. Law enforcement matching compares the GEDmatch kit generated from DNA from a forensic case to the GEDmatch kits of users willing to share. Allowing law enforcement sharing through opting in helps with the identification of unknowns.
What Has Law Enforcement Been Able to Do with GEDmatch?
As of June 2019, thanks to GEDmatch, LE has apprehended at least 59 individuals suspected of rape, murder, and assault in cold cases that go as far back as 1967. In addition to criminal cases, researchers utilized GEDmatch to solve more than a dozen Jane and John Doe cases. Without DNA matches at GEDmatch, these unidentified individuals would have likely remained nameless, and their families would still be waiting and wondering what happened to their loved ones.
Here is a list of suspects and Does identified using GEDmatch.
Will GEDmatch Change Their ToS in the Future?
Virtually every online business or service, including DTC DNA testing companies, regularly updates its terms of service (ToS). These changes are especially important for rapidly growing fields such as genetic genealogy. GEDmatch has always been available for use by everyone, including LE, and we hope this open environment of cooperation and progress continues. However, anticipating the myriad of ways researchers may utilize GEDmatch in the future is impossible, so it is reasonable to anticipate periodic updates in GEDmatch's ToS.  Users should take a moment to consider whether they feel comfortable with participating in GEDmatch and other online DTC services, considering it is not possible to predict how these sites will be used in the future. Regardless of the ToS, protecting one's privacy is ultimately the responsibility of the user. Participants in genetic genealogy should evaluate possible risks and benefits, and be aware of the potential for unanticipated use of data.
What Parts of My DNA Does LE See When I Transfer My DNA Data to FTDNA or GEDmatch?
Remember, your raw data is not available to Law Enforcement (LE) on GEDmatch.  In fact, once the raw data is formatting for GEDmatch through a process called tokenization, it is deleted from the site.  Law enforcement is only able to see how your DNA data compares to the DNA of others on the site, assuming you and those others have opted-in.
What Crimes Have Been Solved Using These Techniques with GEDmatch?
Suspects:
As of June 2019
Joseph James DeAngelo, AKA "The Golden State Killer" — charged with 12 counts of first-degree murder, and suspected to have committed at least 13 murders, more than 50 rapes, and over 100 burglaries in California from 1974 to 1986 (Barbara Rae-Venter)
Terrence "Terry" Peder Rasmussen — murderer of a woman and three children (one of whom was his daughter) in Allenstown, NH between 1978 and 1984 (Barbara Rae-Venter)
William Earl Talbott II — arrested in May 2018 as a suspect in the murder of Tanya Van Cuylenborg and Jay Cook in British Columbia, Canada in 1987 (Parabon)
Raymond Rowe — convicted for the 1992 sexual assault and murder of the 25-year-old teacher Christy Mirack in East Lampeter Township, PA (Parabon)
Gary Hartman — arrested for rape and murder of 12-year-old Michella Welch in Tacoma, WA in 1986 (Parabon)
James Otto Earhart — executed by lethal injection in 1999 and later exhumed and confirmed as the killer of 40-year-old realtor Virginia Freeman in 1981 in Brazos County, TX (Parabon)
John D. Miller — convicted of the 1988 rape and murder of 8-year-old April Tinsley (Parabon)
Matthew Dusseault and Tyler Grenon — arrested in the 2016 murder of 81-year-old Constance Gauthier in Woonsocket, RI (Parabon)
Spencer Glen Monnett — arrested in 2018 for the rape, burglary, and assault of 79-year-old Carla Brooks in St. George, UT (Parabon)
Darold Wayne Bowden AKA "Ramsey Street Rapist" — charged with the serial rapes in Fayetteville, NC from 2006 to 2008 (Parabon)
Michael Henslick — charged with the murder of 22-year-old Holly Cassano in 2009 in Champaign, IL (Parabon)
Marlon Michael Alexander — charged in a series of rapes in 2007–2011 in Montgomery County, MD (Parabon)
Luke Fleming — arrested for the rape and murder of 47-year-old Deborah Dalzell in 1999 in Florida. (Parabon)
Robert Eugene Brashers — serial killer responsible for murdering Genevieve Zitricki of Greenville, SC in 1990, as well as a mother and daughter (Sherri and Megan Scherer) of Portageville, MO in 1998; Brashers also shot an unidentified woman in 1998; and he raped an unidentified girl in 1997 (Parabon)
Michael Wayne Devaughn — charged with murdering a 65-year-old woman, Betty Jones (1990), and raping an 81-year-old woman, Kathryn Crigler, of Starkville, MI (Parabon)
Edward Keith Renegar — kidnapped, raped and murdered 32-year-old Pam Felkins in Greenbriar, AR in 1990 (Parabon)
Jerry Lee — arrested in Alabama for the 1997 murder of 28-year-old Lorrie Ann Smith (Parabon)
Fred Frampton Jr. — charged with the armed robbery and shooting of Michael Anthony Temple Jr., a 24-year-old in Odenton, MD, which left Temple with quadriplegia. Temple later died in 2015 as a result of the 2010 attack (Parabon)
Benjamin Holmes — arrested for the armed robbery and murder of 25-year-old student Christine Franke in 2001 (Parabon)
David Marbrito — suspected killer of 39-year-old Jodine Serrin in 2007 (Parabon)
John Arthur Getreu — arrested as a suspect for the murder by strangulation of 21-year-old Stanford University graduate Leslie Marie Perlov in 1973 (Parabon)
Christopher Quinn Williams — arrested as a suspect in multiple burglaries and assaulting women between 2015 and 2018 in Montgomery County, TX (Parabon)
Jerry Lynn Burns — charged with the murder of 18-year-old Michelle Martinko in Cedar Rapids, IA (Parabon)
William Louis Nichols — charged as the violent rapist of a 12-year-old girl in Hernando County, Florida in 1983 (Parabon)
Russell Guerrero — arrested in January 2019 for the murder of Jack Upton 28 years before in Freemont, CA (Parabon)
Zachary Bunney — arrested as a suspect for the murder of Scott Martinez in 2006 in La Mesa, CA (Parabon)
Jerry Walter McFadden — identified as the murderer and rapist of 20-year-old Anna Marie Hlavka in Portland, OR in 1979 (Parabon)
Stephen H. Downs — charged with the rape and murder in 1999 of 20-year-old University of Alaska student Sophie Sergie in Fairbanks, AK (Parabon)
James Alan Neal — arrested for sexually assaulting, strangling and murdering schoolgirl Linda O'Keefe (age 11) in Newport Beach, CA in 1977 (Parabon)
Joseph Holt — arrested for sexual aggression and murder of Brynn Rainey (age 27) in 1977 and Carol Andersen (age 16) in 1979 near South Lake Tahoe, CA (Parabon)
Thomas Lewis Garner — charged with the beating and strangulation of Pamela Cahanes (age 25, and a recent graduate of US Naval basic training) in Sanford, FL in 1984 (Parabon)
Theresa (Josten) Bentaas — arrested for the death of her abandoned baby in Sioux Falls, SD in 1981 (Parabon)
Kenneth Earl Day — arrested for the rape of a 53-year-old woman in 1989 as well as the rape and murder of 44-year-old Le Bich-Thuy in 1994 in Rockville, WV (Parabon)
Raymond L. Vannieuwenhoven — arrested for the 1976 murder of David Schuldes (age 25), and the sexual aggression and murder of Schuldes' fiancée, Ellen Matheys (age 24) near Silver Cliff, WI (Parabon)
Coley McCraney — truck driver and preacher with no criminal record, arrested for the 1999 double murder of two teens, Tracie Hawlett and J.B. Beasley, in Ozark, AL (Parabon)
Cecil Stan Caldwell — murdered 24-year-old Clifford Bernhardt and sexually assaulted and murdered his wife, and also former co-worker, 24-year-old Linda Bernhardt, in Billings MT in 1973 (Parabon)
Richard E. Knapp — arrested as a suspect in the rape and murder of 26-year-old Audrey Frasier in Vancouver in 1994 (Parabon)
James Richard Curry — (committed suicide in jail in 1983 after being arrested) is the confirmed killer of Mary Edith Silvani in Washoe County, NV in 1982 (IdentiFinders)
Jane and John Does
Hassan A. Alkebu-Lan — age 39 of Richmond, VA found deceased beside the James River in 2016 (Parabon)
Marcia Lenore Sossoman (King), AKA "Buck Skin Girl" — age 21 of Little Rock, AR found murdered in a ditch in Troy, OH in 1981 (DNA Doe Project)
"Lyle Stevik" — Suicide victim found in a motel in Amanda Park, WA in 2001 (DNA Doe Project)
Robert Ivan Nichols, AKA Joseph Newton Chandler III —Suicide victim age 75 originally of New Albany, IN found in Eastlake, OH apartment (DNA Doe Project)
"Alfred Jake Fuller" — found dead of natural causes in his apartment in Maine in 2014 (DNA Doe Project)
Tracey Hobson, AKA "Anaheim Jane Doe" — age 20 of Anaheim found murdered nears the side of the freeway in the Anaheim, CA (DNA Doe Project)
Dana Lynn Dodd, AKA "Lavender Doe" — age 21 of Jacksonville, FL found murdered in Kilgore, TX in 2006 (DNA Doe Project)
Darlene Wilson Norcross — age 61 of Ohio found in West Chester, Butler County, OH in 2015 (DNA Doe Project)
Annie Lehman AKA "Annie Doe" — age 16 found murdered in Cave Junction, OR in 1971 (DNA Doe Project)
Mary Edith Silvani AKA "Sheep Flat Jane Doe" — age 33 of Detroit, MI found murdered at an area called Sheep Flat, in Washoe County, NV in 1982 (DNA Doe Project)
"John Clinton Doe" (Presently unnamed) found deceased near a creek on 26 November 1995 near Clinton, Wisconsin (DNA Doe Project)
Dana Nicole Lowrey AKA "Vicky Dana Doe" — age 24 of Minden, Louisiana found murdered in 2007 by serial killer Shawn Grate near Grand Prairie Township, Marion, Ohio (DNA Doe Project)