Description
Anaheim Jane Doe was a teenager age 15-19 who died about two months before her nude, nearly skeletonized remains were found on August 30, 1987 near Anaheim, CA.
She was found fifty feet off the side of Santa Ana Canyon Road, right off of the heavily-traveled 91 freeway in the affluent Orange County, California suburb of Anaheim Hills.  Her remains were scattered in a 50×50 foot grassy area.  Searchers found handfuls of blond/brown hair, but no clothes, pocketbook, car keys nor other clues to her identity.  A red handkerchief and length of cord were found near the body.  An autopsy on the woman's remains could not determine a definitive cause of death, but defects in two ribs were found, consistent with penetrating stab wounds.  A forensics team estimated her height to be 5'1 – 5'4 with a slender physique, high cheekbones, and long straight blonde/brown hair.  She had a chipped front tooth and 6 missing teeth.  It is believed that she may have been a runaway.  The case is being handled as a homicide.
Agency of Jurisdiction
Orange County Coroner's Office
Kelly Keyes
714-647-7400
Links to More Information
http://www.missingkids.org/poster/NCMU/1184201
https://www.namus.gov/UnidentifiedPersons/Case#/7660
http://www.doenetwork.org/cases/22ufca.html
http://media.ocgov.com/gov/sheriff/divisions/prof/coroner/ud/jane/8704092el.asp
DDP Status:
Identified
On November 14, 2018 the DNA Doe Project (DDP), working through the Orange County Sheriff's Department (OCSD) of Anaheim, California, identified Anaheim Jane Doe as Tracey Coreen Hobson.  On January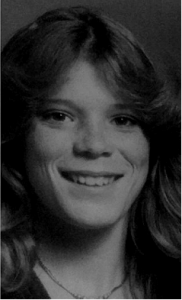 17, 2019 the OCSD announced the positive confirmation of the identification.  Tracy, who was 20 years old at the time she disappeared in the summer of 1987, was a former Anaheim La Mirada High School student and Anaheim resident.  It is unclear whether a missing person report had been filed on her, and the circumstances of her disappearance remain a mystery.
Tracy's identification was made possible by the work of DDP volunteers using genetic genealogy.  Because genetic genealogy is not accepted as a legal form of identification, it can only be considered a lead in an investigation.  The Orange County Coroner's Office then used forensic dentistry to legally confirm Tracy's identity on January 15, 2019.
The Sheriff's Department is now focusing on the investigation of Tracy's homicide and bringing her killer to justice.
Read more about the search for the identity of Anaheim Jane Doe:
https://patch.com/california/orange-county/cold-case-homicide-victim-idd-30-years-later
Links to Anaheim Jane Doe articles
Last Updated: August 6, 2020