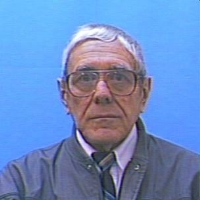 Driver's license photo (Left) and aged regressed photo (right).
Joseph Newton Chandler III is the assumed name of a man who committed suicide in Eastlake, Lake Co., OH in 2001.  In trying to locate his family, the authorities discovered he had stolen the identity of an eight year old boy who had been killed in a car accident outside of Weatherford, TX on December 21, 1945.  The real Joseph Newton Chandler III had been the victim of a head-on collision along with his parents Joseph Newton Chandler Jr and Ellen Kaaber Chandler.  At the time of the crash, the family were residents of Tulsa, OK where Mr. Chandler served as the district representative for Buick Motor Co.
John Doe had worked for many years as an electrical designer or draftsman for Lubrizol Corp. hired as a temp through CDI Corp. of Philadelphia.  He was described as eccentric and quiet, with few friends.  He had been diagnosed with colon cancer shortly before his death.
The investigation into John Doe's identity revealed that on September 25, 1978, he applied for a social security number under the real Chandler's name.  It was sent to him at an address in Rapid City, SD by Buffalo City Hall, where the real Chandler was born.  He immediately moved to the Cleveland area, where he resided until he died in 2002.
Investigation into his whereabouts prior to 1978 have been unsuccessful.  It is believed that he may have known the real Chandler family, but this has never been confirmed.  Comparison of his Y-DNA with the genetic genealogy databases has revealed that his last name was probably Nicholas.
For more information, please see:
en.wikipedia.org/wiki/Joseph_Newton_Chandler_II
Links to additional Joseph Newton Chandler articles