Description
On July 9, 2017 the body of a woman was found behind a residence in downtown Phoenix, Arizona. The medical examiner describes her as a White/Caucasian female, middle-aged (44-70 years old), 5'4" tall, weighing 124 pounds, with long brown to slightly blonde hair. When found she was wearing a white shirt with green dots/sequins over a green shirt and black pants that seemed too large and too long for her. She had on gray and purple shoes with blue laces. On her left upper chest she had a multicolored tattoo depicting a rose and the name "Stuart". On her lower right leg she had a black tattoo with the words "Laura N Layla". The woman had been deceased for only a few hours before being discovered.
NamUs ID: UP16996
Date Body Found: July 9, 2017
Race: White/Caucasian
Gender: Female
Estimated Age: 44-70
Estimated PMI: Hours
Location: Phoenix, AZ
Agency of Jurisdiction
Phoenix Police Department
Stuart Somershoe, Detective
602-261-8065
[email protected]
Link to More Information
https://www.namus.gov/UnidentifiedPersons/Case#/16996
https://www.namus.gov/api/CaseSets/NamUs/UnidentifiedPersons/Cases/16996/Images/42583/Original
https://www.facebook.com/permalink.php?story_fbid=718920131633312&id=314563652068964
Status: Identified
Four years after the remains of a woman were discovered behind a residence in downtown Phoenix, the Phoenix Police Department and the DNA Doe Project can confirm her identity as Laura Jean Jordan.
After exhausting all other leads, the Phoenix Police Department contacted the DNA Doe Project on March 3, 2021, hoping to identify the woman using investigative genetic genealogy. In early April of this year, a blood card was sent to HudsonAlpha Discovery for extraction and whole genome sequencing. By the end of May, sequencing had been completed, and on June 1, 2021, the DNA file was delivered to Saber Investigations for bioinformatics. The DNA file was first uploaded to GEDmatch on June 3, 2021 and then uploaded to FamilyTreeDNA on July 15, 2021.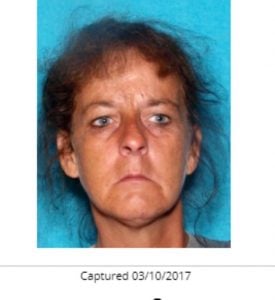 The DNA Doe Project has partnered with the University of New Haven as part of their Forensic Genetic Genealogy Graduate Certificate Program. Students in the program participated in the research phase of this case, making it one of the first cold cases solved with graduate student intern involvement using investigative genetic genealogy.
Close family matches were found on both GEDmatch and FTDNA. The genealogy research was complicated by the lack of public records and endogamy, but the team was able to identify a candidate within a few weeks.
Team Leader Gabriella Vargas stated, "We thank the Phoenix Police Department for entrusting us with this case. We are honored to have played a part in giving Laura her name back. Our hearts go out to her family."
The DNA Doe Project wishes to acknowledge the contributions of other groups and individuals who helped solve this case: the Phoenix Police Department and Detective Stuart Somershoe, who entrusted the case to the DNA Doe Project; Investigator Christen Eggers of the Maricopa County Medical Examiner's Office; the FBI Latent Print section for confirmation of the identification; HudsonAlpha Discovery for extraction and sequencing; Kevin Lord of Saber Investigations for bioinformatics; GEDmatch and Family Tree DNA for providing their databases; the University of New Haven's Graduate Certificate in Forensic Genetic Genealogy program interns, and DDP's dedicated teams of volunteer investigative genetic genealogists who work tirelessly to bring victims home.
For more information on the search for the identity of Laura 'n Layla Jane Doe:
https://www.12news.com/article/news/local/valley/restoring-names-to-the-nameless/75-cc74521b-f500-4080-b102-5c99e699bd99
Image Credit: Stephen Missal
Last Updated: September 21, 2021