Description
In the morning of Saturday, July 28, 2018, a child found a semi-decomposed leg from the knee down floating in Buena Vista Lake in Kern County, California. After extensive search of the area, no other body parts were located. A forensic anthropologist found no evidence of trauma to the leg and no evidence the leg was severed by traumatic means. Cause or manner of death could not be determined. And other than that the person from whom the leg came was female and relatively small, no other descriptive information (such as race, age, height, weight, etc.) could be gleaned by the anthropologist. Registry of DNA of the leg tissue with DOJ did not reveal the identity of the person belonging to the leg.
Date Body Found: July 28, 2018
Race: unknown
Gender: Female
Estimated Age: unknown
Estimated PMI: unknown
Location: Buena Vista Lake, Kern County, CA
Agency of Jurisdiction
Kern County Sheriff's Office
Dawn Ratliff
661-861-3110
[email protected]
Links to More Information
https://www.bakersfield.com/news/breaking/leg-found-in-buena-vista-lake-remains-unidentified/article_9c63495c-9ce2-11e8-b72c-4f5bcc931e52.html
https://www.turnto23.com/news/local-news/kcso-human-leg-found-in-lake-buena-vista-belonged-to-a-woman
https://www.kget.com/news/local-news/investigation-continues-to-identifying-human-remains-found-in-kern-river-and-lake-bv/1389495261
https://www.turnto23.com/news/local-news/human-remains-found-in-lake-buena-vista
Status: Identified
Image Credit: Image compiled by Jack Friess, DNA Doe Project
On October 15, 2020 the Kern County Sheriff's Office (KCSO) announced the identity of a partial leg and, recovered at a different time, the body of a 63-yer-old African American woman found in a submerged car in Buena Vista Lake, California as Shirley Mae Cassel. The DNA Doe Project (DDP) had been working on the case since February 2019 to identify the leg through genetic genealogy.
Cassel was 63 when she went missing from her residence in Santa Ana, California on August 21, 2017, according to the Kern County Sheriff's Office. Cassel's landlord reported her missing weeks later.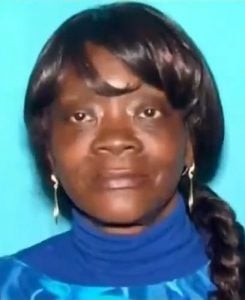 In February 2019 KCSO contacted DDP in order to initiate genetic genealogy research to identify the deceased from the partial leg. DDP attempted to get adequate DNA from the remains. Even though file was developed and entered into GEDmatch, the results were too poor to conduct genealogy research, so additional extractions were pursued. When a body was recovered from a submerged car in the lake on July 12, 2020, local authorities were able to connect the body to the leg and solve the case. We are immensely relieved to hear the identification was made and a family now has answers.
DDP wishes to acknowledge the contributions of those groups and individuals who helped work this case: the Kern County Sheriff's Office and Dawn Ratliff, Division Chief of the Kern County Medical Examiner's Office; Astrea Forensics and DNA Solutions for extraction; HudsonAlpha Discovery for sequencing; Dr. Greg Magoon, Senior Research Engineer, Aerodyne Research Corp., contracting through Full Genomes Corp., for his work in bioinformatics; GEDmatch and Family Tree DNA for providing their databases; and DDP's dedicated team of volunteer genealogists who worked tirelessly on this case.
For more information on the search for the identity of Buena Vista Leg 2018:
KXAN NBC News article
Last Updated: February 15, 2021