Description
On 21 September 1987, a county road crew discovered the decomposed body of a Caucasian female near the side of a rural road near Lincolnville, Marion County, Kansas, (located directly west of Emporia, KS and north-northeast of Wichita, KS.)
Based on the amount of decomposition, a forensic anthropologist estimated that she probably died about two to three months prior between 21 June and 10 August 1987.
Authorities estimated that Marion County Jane Doe was between 20 to 35 years old, stood 5'6 – 5'8, and weighed approximately 120 pounds. She had curly, light brown hair around four inches long, and had a plain tattoo of a cross with four radiating lines on her left forearm.
NamUs ID: UP472422
Date Body Found: September 21, 1987
Race: White/Caucasian
Gender: Female
Estimated Age: 20-35
Estimated PMI: 2-3 months
Location: Lincolnville, KS
Agency of Jurisdiction
Kansas Bureau of Investigation
Todd Leeds, Special Agent
316-337-6097
[email protected]
Links to More Information
https://www.namus.gov/UnidentifiedPersons/Case#/2422
https://unidentified.wikia.org/wiki/Marion_County_Jane_Doe_(1987)
https://crimewatchers.net/forum/index.php?threads/marion-county-jane-doe-wf-16-99-found-at-the-side-of-a-road-21-september-1987.5948/
http://www.doenetwork.org/cases/6ufks.html
Status:  Identified
On December 23, 2019 the Kansas Bureau of Investigation (KBI) announced the identity of the unidentified murder victim known as Marion County Jane Doe 1987 as Michelle Evon Carnall-Burton of Cherryvale, Kansas. The DNA Doe Project (DDP) had been working closely with KBI since April, 2019, and came up with the candidate in early October. Positive identification was made through DNA samples provided by Michelle's parents.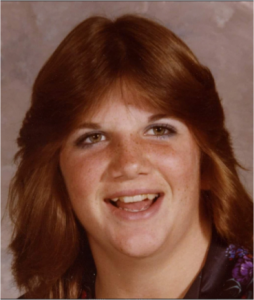 Michelle, known as "Chelle" to friends, was 22-years-old and lived in Wichita, Kansas at her death. She had left her family's home in Cherryvale, Kansas in 1986 and her family lost touch with her. Her whereabouts after she left home remain a mystery.
The KBI now is concentrating on solving Michelle's murder, and is looking for any information about Michelle's movements during June or July of 1987.
DDP is grateful for all the hard work by our volunteer genealogists, and also want to express our appreciation to, GEDmatch.com, FTDNA, Dr. Gregory Magoon at Aerodyne Research, HudsonAlpha Institute for Biotechnology, Justin Loe at Full Genomes Corporation, Inc., and Kansas Bureau of Investigation for entrusting us with this case. We also thank family members for their assistance and cooperation. Our sincere sympathies go out to them for their loss.
More information about the search for Michelle:
https://www.kwch.com/content/news/KBI-uses-DNA-and-forensic-genetic-genealogy-to-identify-woman-killed-in-1987-566440021.html
Last Updated: August 6, 2020