Description
On October 31, 1979 the nude body of a woman was found face-down in a culvert along I-35 in Georgetown, Texas, north of Austin.  She had been sexually assaulted and was strangled.  Along with a  pair of orange socks, she also wore a pearl-stone ring.  Later she became known only as "Orange Socks".  It was determined the woman was age 15-30,  5'8 – 5'10, and 140 – 160 pounds.  Her teeth were in very good condition and there was no evidence of dental work or cavities.  She had long brown hair.  Serial killer Henry Lee Lucas confessed to the victim's murder in 1982 and was sentenced to death; he recanted his confession shortly thereafter.  Orange Socks is buried in a grave marked "Unidentified Woman" in Georgetown, Texas.
 
NamUs               UP13838
Date Found        October 31, 1979
Race                    White / Caucasian
Sex                      Female
Age                      15-30
PMI                     24 Hours
Location             Georgetown, Texas
Agency of Jurisdiction
Williamson County Sheriff's Office, Cold Case Unit
John Pokorny , Sergeant 
737-240-0559
Links to More Information
https://en.wikipedia.org/wiki/Orange_Socks
http://www.doenetwork.org/cases/33uftx.html
https://www.namus.gov/UnidentifiedPersons/Case#/8056
http://www.missingkids.org/poster/NCMU/1213120
Status
Identified.  On August 7, 2019 Sheriff Robert Chody of the Williamson County Sheriff's Office in Georgetown, Texas announced that the homicide victim found in 1979 and known only as "Orange Socks" was 23-year-old Debra Jackson of Abilene.   The Sheriff reported Debra left Abilene in 1977 and traveled to Amarillo in 1978, working at a Ramada Inn in Amarillo and at an assisted living center in Azle, northwest of Fort Worth.  Debra's family didn't file a missing person report because they thought she had merely set out on her own and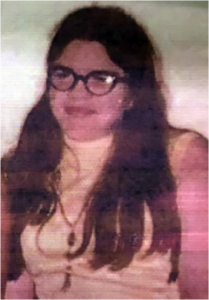 was "doing okay".  They helped to identify her from the scars on her legs which were consistent with scars left from a bacterial infection Debra had as a child, and by her abnormally long toes and uniquely shaped earlobes.  Debra's sister broke the case after seeing a sketch of "Orange Socks" on TV and contacted the Sheriff's Office.  She then provided her DNA profile to DNA Doe Project (DDP) that had been working with the Sheriff's Office on the case since April, 2018.  DDP uploaded Debra's sister's DNA profile to the genealogy database called GEDmatch, which matched the DNA profile of "Orange Socks" uploaded previously by DDP.  Sheriff Chody said it was too early to identify a suspect in Debra's death.
Read more about the search for Orange Socks' identity:
https://www.statesman.com/news/20190807/40-years-after-her-death-debra-jackson-of-abilene-identified-as-orange-socks
Image Credit:  NCMEC
Last Updated: June 20, 2021